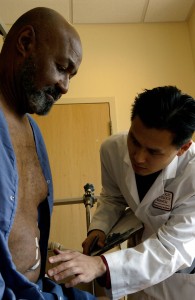 There are more that 35,000 low income uninsured Gaston County residents who struggle to get medical care in our community.  During these tough economic times, the need continues to grow.
What is HealthNet Gaston (HNG)?
HNG is a collaborative care network that helps low-income, uninsured Gaston County residents receive affordable medical care.  HNG enrollees are assigned a medical home with a primary care provider and have access to specialty care, medication assistance, lab, diagnostic, and other hospital services, as well as case management or health coaching activities at no or low cost to the member.
Who can enroll in HNG?
Gaston County residents, 18 and older who are uninsured and at or below 100% of federal poverty and who have a condition that would benefit from our services.  Examples of chronic conditions include diabetes, high blood pressure, heart disease and asthma.
How do individuals enroll in HNG?
HNG has an eligibility screening system which assures each HNG enrollee is a Gaston County resident and meets the financial criteria.  Patients can enroll at the HNG central office at 200 E. Second Avenue.  Call 704-874-1901 for more information or visit the Apply Online section to fill out an eligibility quiz.