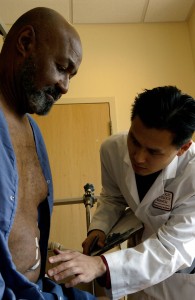 What is HealthNet Gaston (HNG)?
HNG coordinates affordable healthcare and supportive services for low-income, uninsured Gaston County residents.  Everyone in HNG has a medical home with a primary care provider and access to specialty care, medication assistance, lab, diagnostic, and other hospital services, as well as case management or health coaching activities at no or low cost.
Who can enroll in HNG?
Gaston County residents, 18 and older who are uninsured and at or below 100% of federal poverty and who have a chronic medical condition.  Examples of chronic medical conditions include diabetes, high blood pressure, heart disease, and asthma.
How do individuals enroll in HNG?
To enroll in HNG, everyone must be screened to verify eligibility.  There are three ways to be screened:
Go to the HNG central office at 613 East Franklin Boulevard, Gastonia NC 28054
Call 704-874-1954 to speak to the Patient Navigator.
Visit the Apply Online section to fill out an eligibility quiz